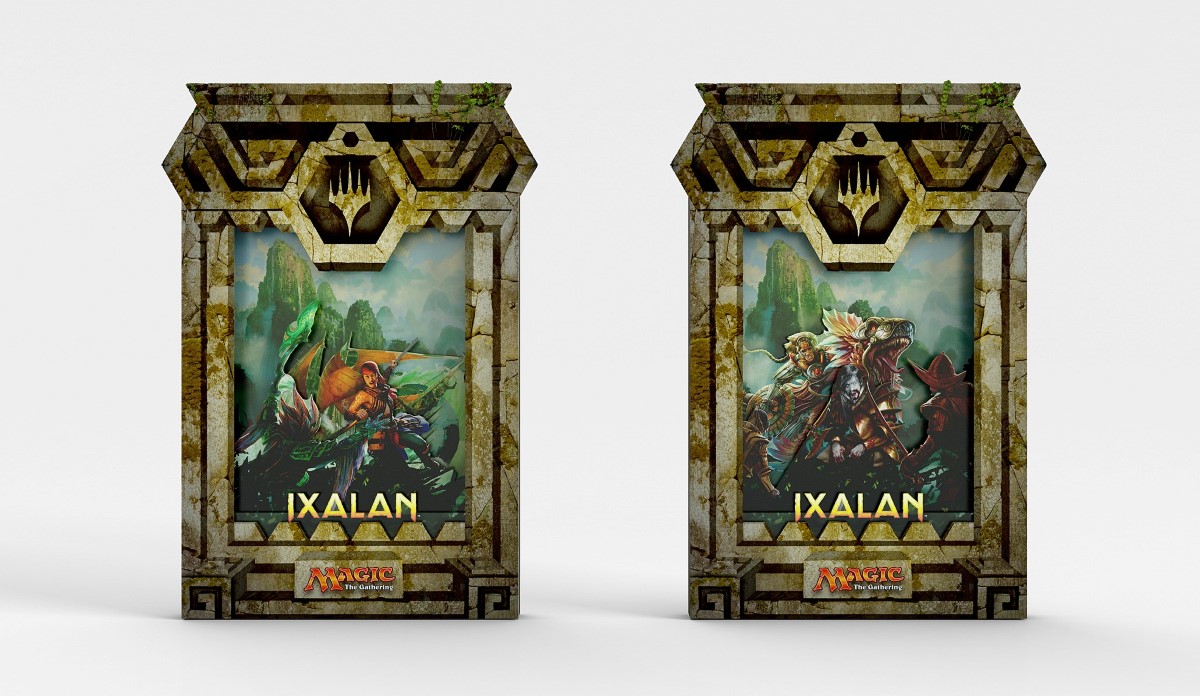 Hour of Devastation may still feel fresh, but with just over a month from release, promotion for Ixalan is just already revving up. And while today should have only been the start of a geocaching-centric marketing campaign (first announced earlier this month), it seems Wizards of the Coast let just a bit more slip than planned.
Just a couple weeks ago, Wizards of the Coast announced a partnership with Geocaching.com to offer Magic: the Gathering themed trackables as part of the promotion for Ixalan. If you're somehow unfamiliar, geocaching is something of a game of hide and seek where—through the use of GPS or other methods—players attempt to locate caches hidden throughout the world. Sometimes this involves collecting a stamp hidden in the cache, or moving objects from one cache to another, ala Where's George?.
Geocaching is a game that incentivizes getting out and about through the thrill of exploration and faux treasure hunting. Speaking of the promotion in the original announcement, Blake Rasmussen said:
The upcoming Ixalan release is set in a world full of discovery, of players and characters exploring a world and searching for—well, something. We'll get to that once previews are underway. But there is a way you can explore Ixalan by exploring our world.
Today, we saw the first news of "select influencers" who received early trackables via the promotion—small trinkets emblazoned with a Magic card back on one side, and information about Ixalan and how to track the object via Geocaching.com. For example, Lauren Orsini for Forbes shared her experience hiding the trackable, saying, "These are ordinary places I walk by every day, and I never suspected they'd be hiding treasure boxes!" Others also posted their Ixalan adventure:
To sign up for a chance to win one of 1500 Ixalan trackables being given out globally or track one down in a cache near you, visit the official promotion page on Geocaching.com. Whatever you do, however, resist the urge to keep the trackable if you receive one; the core conceit of the promotion is that Wizards has promised to reveal more about Ixalan as the trackables travel further and further. Happy hunting!
Early Ixalan Reveals
Maybe geocaching is not your thing? That's totally fine, because we've received more information about Ixalan anyway. In what appears to be yet another web whoopsie, key Ixalan product images were briefly released on Wizards' official product sites. You may remember that the French-language Standard Showdown site gave us some our first glimpses at Hour of Devastation in a similar mixup back in June.
This time, we get to check out numerous product images, the Buy-a-Box, Draft Weekend, League and OpenHouse promotional cards for Ixalan, as well as the set's double-sided foil tokens. While the tokens may, sadly, be replacing FNM promos, they do tell us a few things. The first is that Treasure (Lotus Petal with the Treasure subtype) is clearly a major mechanic in Ixalan—at least to the degree that it justifies backing all three FNM promo tokens with a Treasure token variant.
The second thing that stuck out to me is that the Pirate token does not have the Human subtype. This odd omission could mean a few things; specifically that either Pirates on Ixalan are not human, or that Pirates are just not strictly human. The former seems less likely, implying that Pirate is its own race. The latter, however, may indicate that multiple tribes of Ixalan will create Pirates, in which case Wizards has simplified things by having them generate 2/2 black Zombies, er… uh… Pirates.
A non-tribal take on Pirates could be backed up by some excellent Christopher Moeller art on the OpenHouse promo for Walk the Plank. The full-art card, which features some of Moeller's last artwork for Magic: the Gathering after the recent announcement of his retirement from the game, shows what appear to be both Human and what appear to be Goblin Pirates.
One final tidbit to note is that product images displayed used Hour of Devastation full-art lands. While this could be meaningless, the nature of today's accidental reveal would indicate to me that these are final product images. In that case, you would expect to see Ixalan full-art lands if we were going to get them. We will have to wait for more information to be released to find out for sure, however.
Check out today's reveals below, and stay tuned for whatever Wizards decides to reveal as the Geocaching promotion continues.
Walk the Plank
Walk the Plank – BB
Sorcery (Promo)
Destroy target non-Merfolk creature.
130/279 P OpenHouse – Illus. Christopher Moeller
Bishop of Rebirth
Bishop of Rebirth – 3WW
Creature – Vampire Cleric (Promo)
Vigilance
Whenever ~ attacks, you may return target creature card with converted mana cost 3 or less from your graveyard to the battlefield.
3/4
Flavor text: "In the death of the foe lies the resurrection of the faithful."
005/279 P Draft Weekend – Illus. Matt Stewart
Burning Sun's Avatar
Burning Sun's Avatar – 3RRR
Creature – Dinosaur Avatar (Promo)
When ~ enters the battlefield, it deals 3 damage to target opponent and 3 damage to up to one target creature.
6/6
Flavor text: "Tilonalli's searing rays carry the spark of life's eventual destruction as all light fades." – Chitlati, Lightning Rider
135/279 P Buy-a-Box – Illus. Svetlin Velinov
Unclaimed Territory
Unclaimed Territory
Land (Promo)
As ~ enters the battlefield, choose a creature type.
T: Add 1 to your mana pool.
T: Add one mana of any color to your mana pool. Spend this mana only to cast a creature spell of the chosen type.
258/279 P League – Illus. Dimitar
Foil Promo Tokens
Comments
comments