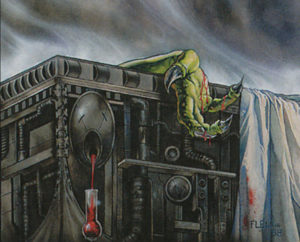 Last week's accidental publishing of the Dominaria set release notes brought numerous surprises with it. One of the most promising tidbits was the introduction of a new type of card called Sagas—an Enchantment subtype that's meant to recall important events from Dominaria's past.
As a Saga enters the battlefield, its control places a lore counter on the first chapter ability. This triggers the corresponding ability. After the draw step—normally, this means at the beginning of the precombat main phase—a Saga's controller places another lore counter on the card, and after triggering the final chapter ability, the Saga is sacrificed as a state-based action. Think of Sagas like really slow modal spell (except it's an Enchantment, you never select a mode, etc.—you get the idea). Sagas also count as "historic" spells for cards that care about whether a spell is "historic."
Wizards of the Coast mentioned that there would be plenty of visual surprises coming in Dominaria, but we certainly did not expect the bold vertical design they've chosen for Sagas. Without further ado, let's take a look at Phyrexian Scriptures, our first Saga.
Phyrexian Scriptures
Phyrexian Scriptures – 2BB
Enchantment – Saga (Mythic)
(As this Saga enters and after your draw step, add a lore counter. Sacrifice after III.)
I – Put a +1/+1 counter on up to one target creature. That creature becomes an artifact in addition to its other types.
II – Destroy all nonartifact creatures.
III – Exile all cards from all opponents' graveyards.
100/269 M – Illus. Joseph Meehan
Long-time players may find Joseph Meehan's art for Phyrexian Scriptures familiar. That is, of course, a callback to the classic Urza's Saga version of Dark Ritual painted by Tom Fleming. Not only is the art referenced, but it appears that these are the same scriptures quoted on that version of the card.
From void evolved Phyrexia. Great Yawgmoth, Father of Machines, saw its perfection. Thus the Grand Evolution began. —Phyrexian Scriptures
As is the case with all new card designs, reactions to the Saga frame has been mixed. While there are certainly those who feel Sagas don't look like Magic cards, many players have been positive on the intuitive design. In a sense, Sagas have a more board game -like styling than a traditional Magic: the Gathering card.
Mechanically, there is no reason Sagas couldn't work within existing card frames, but personally, I like seeing Wizards of the Coast try interesting new ideas. But what do you think? Are Sagas a cool new stylistic choice, or do they stray too far from the norm for Magic: the Gathering? Let me know in the comments or over on Twitter.
---
Update: Check out the full art for Phyrexian Scriptures by Joseph Meehan. [source]
Comments
comments