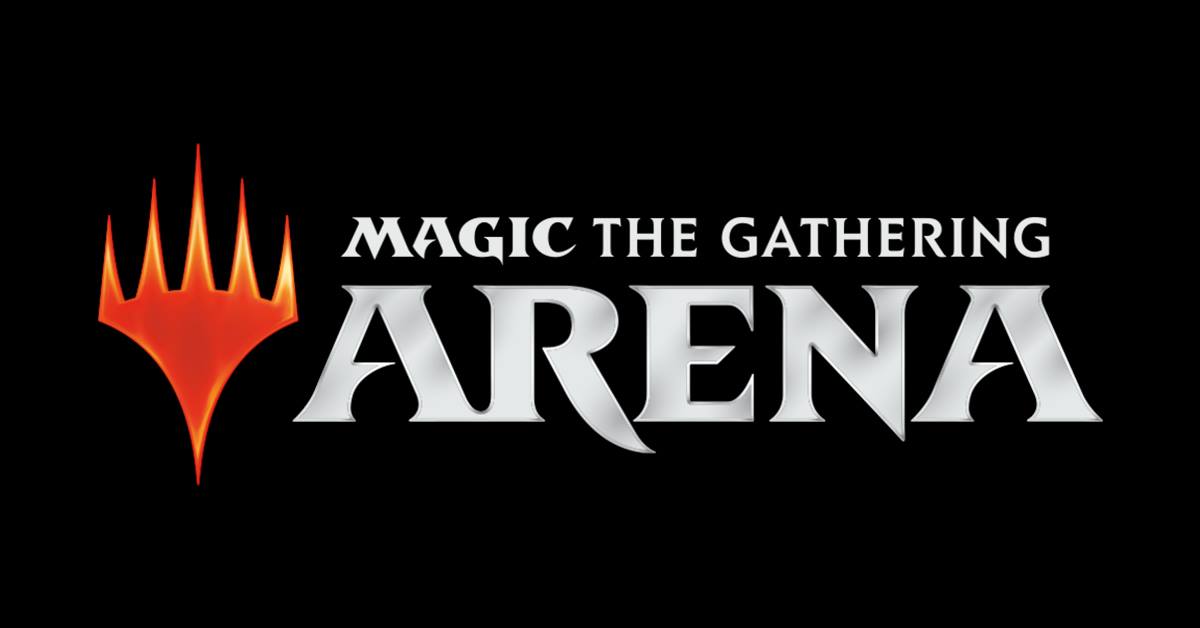 Wizards of the Coast has finally teased the first new offering under their Magic Digital Next umbrella of initiatives. The announcement came today via posts on Twitter and Facebook, and coincides with Hasbro's 2017 Investor Day event (though Magic: the Gathering Arena was not specifically discussed in the investor call).
That digital game we are working on has a real name now: Magic: The Gathering Arena! pic.twitter.com/xTQWtjg6xc

— Magic: The Gathering (@wizards_magic) August 3, 2017
Magic: the Gathering Arena
Fans hoping that the first news about Magic Digital Next would bring answers will unfortunately have to wait just a little longer. While no concrete details about Magic: the Gathering Arena were given, today's teaser serves, rather, to draw attention to the actual announcement coming next month.
Without much to go on, fans have of course been speculating about what to expect from Magic: the Gathering Arena. Though unconfirmed, the fact that Arena was not mentioned at the Hasbro 2017 Investor Day event directly, it's unlikely this will be the rumored update or replacement for Magic: the Gathering Online. Nor is it likely Arena will be the upcoming MMORPG in development by Cryptic Studios. Both of those projects are surely significant enough to at least garner a mention at the investor event.
Instead, many are guessing that Magic: the Gathering Arena could potentially replace the recently discontinued Magic Duels. A free-to-play successor to Duels of the Planeswalkers, Wizards of the Coast ceased support of Magic Duels shortly after the release of Amonkhet in order to reallocate resources to Magic Digital Next.
Some players have also bemoaned the possibility that the style and tenor of today's news indicates a smaller, less significantly hardcore product. As one reddit user predicted, "A reskin of a time-burning phone-app-game with gate watch characters wedged in, or a digital version of the mtg-themed board game, with zero actual relation to the card game we know and love, also: gratuitous in-app purchases, because why not." While that response may be a bit on the cynical side, it's not an uncommon sentiment among hardcore players, who really just want the best for the health of their favorite game.
Those interested can catch Wizards of the Coast's official announcement on September 7th at 1 PM (Pacific) via Magic's Twitch.tv stream, where the company is promising additional details, including how to join the closed beta.
What is Magic Digital Next?
In short, Magic Digital Next is the general umbrella term for all products that fall under Wizards of the Coast's recent efforts to up their game when it comes to digital products surrounding Magic. Magic Digital Next is a corporate initiative, likely put in place in response to criticism that Wizards of the Coast has fallen well behind competitors in the digital card game space – a market largely dominated by games that take direct inspiration from Magic: the Gathering. Magic Digital Next is not a game, application or product.
Excitement around today's tease has been somewhat understandably low. No additional details are expected for just over a month, and Wizards of the Coast has been treading carefully with the release of information following the first announcement of Magic Digital Next during a Hasbro earnings call back in February. And perhaps with good reason.
There has been a significant amount of confusion in the community surrounding what "Magic Digital Next" actually means, and how it will affect current digital products, most notably Magic: the Gathering Online. One thing is for certain, though: Wizards is wising up to the growing confusion. The official WOTC_CommunityTeam on reddit was quick to chime in to clear some things up this morning.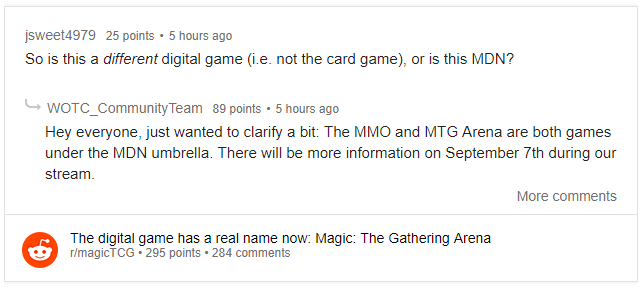 Despite Wizards of the Coast developing and publishing Magic: the Gathering continuously for 25 years, the company has often been criticized for being slow to adapt to new trends. Magic is one of the most successful card games of all time, and serves as the basic inspiration for nearly all trading card games (and many non-TCGs) that have followed.
While Magic Online has a dedicated following, many players have criticised the high cost of entry and outdated interface. The decision to keep prices of physical and digital product at parity while failing to provide significant updates to modernize and stabilize the platform has proven to be a dealbreaker for many. These primary sticking points are not new, either, and have been well known more or less since launch in 2002.
That's not to say all is bad, of course. MTGO is widely considered essential for players with aspirations to pro status, who want the convenience of drafting at any time, or who no longer have friends nearby to play. Magic: the Gathering is also a complex game, and for the most part, MTGO replicates nearly every card in the game's history with accurate interactions and rules enforcement. It's a wonder it actually works (most of the time).
According to a report released in January, research firm SuperData places Magic: the Gathering Online at only #5 in terms of online CCG revenue. This positions MTGO as falling well behind Hearthstone, which it estimates will rake in $1.4 Billion in 2017—an order of magnitude more than its competitors.
It's understandable, then, that many Magic: the Gathering players are hoping Magic Digital Next will bring a much needed refresh to MTGO. For now, however, we'll just have to wait to see what September 7th Twitch stream brings us.
Comments
comments